asana
asana profile (Japanese/English)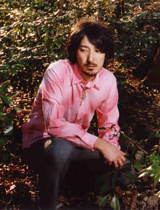 浅野裕介を中心とした音楽プロジェクト。彼は、バリ島滞在時、虫の音、蛙の声などからインスピレーションを受けて曲作りを始めたという。そのエピソードが物語るように、ガムラン、カリンバ、ウクレレ、シタール、トランペット、アナログシンセなど、さまざまな楽器によって紡ぎだされるエキゾチックな雰囲気は聴き手の心の琴線に触れる。
2002年にSTIFF SLACKから1stアルバム「kupu kupu」を発表。レコード店だけでなく、カフェや雑貨店、家具店などでもロングセラーを記録。TORTOISE等の作品で知られるアンディー・ミューラーがジャケットデザインを手掛けた事も話題となった。2004年末には豪華アーティストが多数参加した、リミックス・アルバム「ini apa?」を発表。続いて2005年にはタナカアキラとのスプリット・アルバム「split」と精力的なリリース。2006年には初の歌モノに挑戦した待望の2ndアルバム『le le』をEaselより発表。2009年には多数のゲストヴォーカリストを起用した3rdアルバム『SUAR』を発表。ミニマリズム、MPB、アフロポップを消化し、独創性豊かでハイブリッドなポップスを作り上げた。
全国で積極的に行われているライブでは、ダブ処理も加わったダイナミックな演奏や、美しいアコースティック・バージョン、ループサンプラー等を駆使したソロセットなど、多様な表情を見せる。これまでに国内外の多数のアーティストと共演。個人名義ではゲームソフト、映画、TV番組のサウンドトラックなど活動の場を広げている。サポートミュージシャンとしても多くのアーティストの作品に参加。2010年からラテン、アフロビートと下敷きにした総勢10名の大所帯バンド"BEMBE"を始動。同時に自主企画イベント"AFRONOVA!"を定期的に開催。今後もさらに音楽性の拡張を続けていくだろう。
Inspired by the sounds of insects and frogs encountered on a trip to Bali, Yusuke Asano started the music project Asana in (year). As can be imagined by this origin, Asana's compositions flow with an exotic ambience accented beautifully by the use of various instruments such as: jambe, gamelan, kalimba, ukulele, sitar, trumpet and analogue synthesizers... all used to push the keys and pluck the strings of audiences' hearts worldwide.
Asana's debut album "Kupu Kupu" was released by the Japanese label Stiff Slack in 2002. The album has proved to be a long time seller, not only in record stores, but also in cafes, design goods stores, and select furniture shops. Also, the cover of "kupu kupu" was desgned by Andy Muller, best known for his design work with Tortoise. Due to the warm response of "kupu kupu" many talented artists joined to remix tracks from it in the end of 2004 resulting in the remix CD "ini apa?". Then, 2005 saw the release of "Split" a split album of new tracks from Asana and fellow Nagoya, Japan artist Tanaka Akira. 2nd long-awaited album "le le" that challenges the first vocal tracks was released by the Japanese label Easel in 2006. 3rd album "SUAR" that appoints a lot of guest vocalists was released in 2009. He digested minimalism, MPB, and afro pop, and made up hybrid pops of rich originality.
Despite their busy recording schedule, Asana has managed to actively participate in numerous live performances with many Japanese and oversea's artists. These performances vary dramatically, from a dynamic live set with a hint dub to a beautiful acoustic concert in a cafe, and the solo set which made full use of loop sampler. Both versions highlight the magic that makes Asana so mesmerizing...the space between the notes, where the insects chirp and the frogs sing. The place of the activity like the sound track of the video game, the movie, and the TV program has been expanded in his individual name. Moreover, it participates in a lot of works of the artist as a support musician. The big band "BEMBE" based on Latin music and the Afro beat was started in 2010. The independent project event "AFRONOVA!" was regularly held at the same time. We can only hope that the future will bring us more the same...where Yusuke Asano, like these small creatures, lets the songs flow freely from the bottom of his heart.